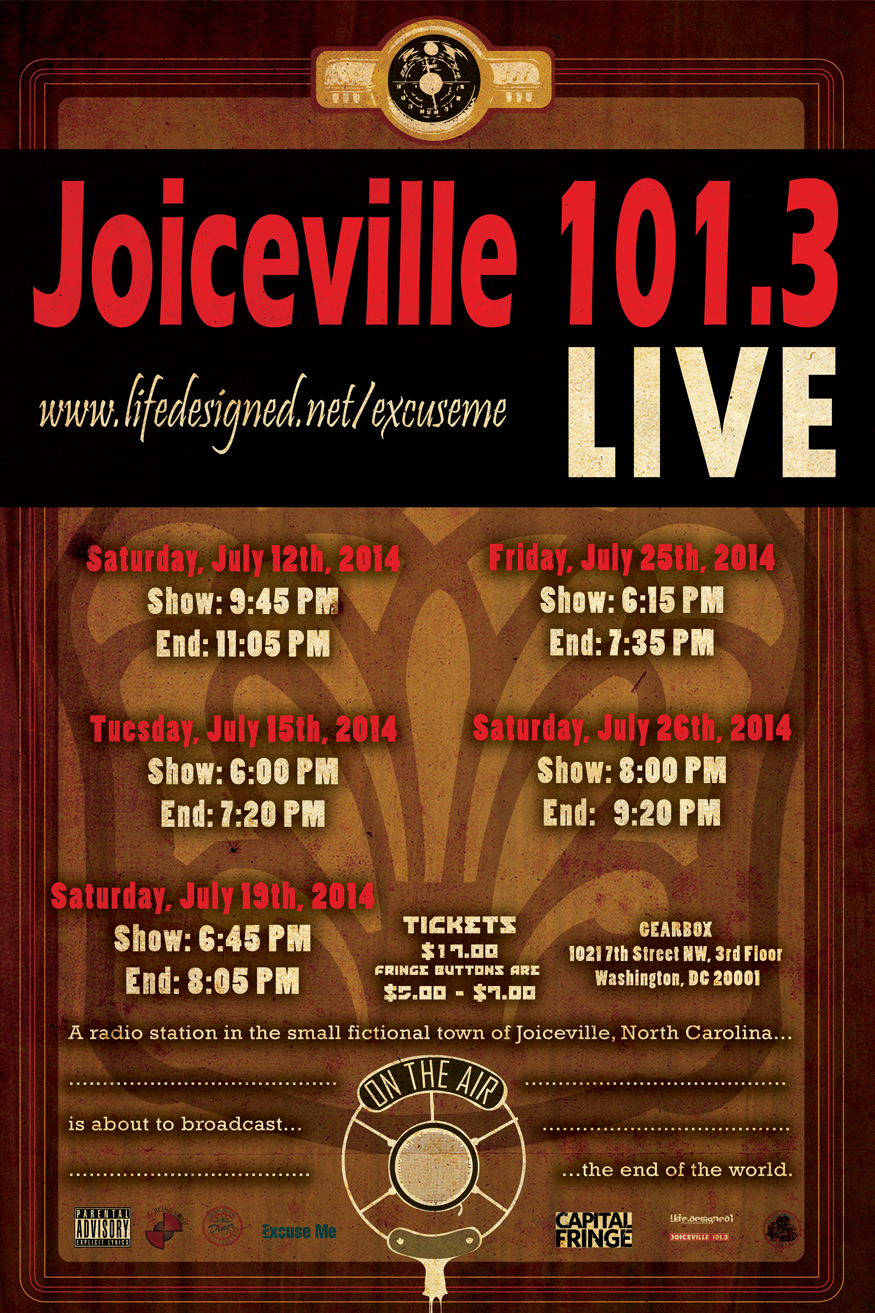 JOICEVILLE 101.3
A radio station In the small fictional town of Joiceville, NC. is about to broadcast… the end of the world.
The Show that's going to take center stage on the D.C. Capital Fringe Festival this Summer 2014.
COME AND JOIN US!
Gearbox
Address
1021 7th Street NW, 3rd Floor Washington, DC 20001
Saturday, July 12th, 2014
Show: 9:45 PM
End: 11:05 PM
Tuesday, July 15th, 2014
Show: 6:00 PM
End: 7:20 PM
Saturday, July 19th, 2014
Show: 6:45 PM
End: 8:05 PM
Friday, July 25th, 2014
Show: 6:15 PM
End: 7:35 PM
Saturday, July 26th, 2014
Show: 8:00 PM
End: 9:20 PM
Capital Fringe
https://www.facebook.com/CapitalFringe
WATCH:
www.lifedesigned.net/thejoy
WEBSITE:
http://www.lifedesigned.net/excuseme/
FACEBOOK
https://www.facebook.com/excusemecomedy
Capital Fringe
Description
Capital Fringe is a 501(c)3 nonprofit organization founded in the summer of 2005 with the purpose of infusing energy into performing arts in the Washington, DC region through our yearly Fringe Festival and year-round Fringe Training Factory. Our mission is to connect exploratory artists with adventurous audiences by creating outlets and spaces for creative, cutting-edge, and contemporary performance in the District. Capital Fringe's vital programs ensure the growth and continued health of the local and regional performing arts community by helping artists become independent producers while stimulating the vibrant cultural landscape in our city.
Tumblr: http://capitalfringevideo.tumblr.com/
Blog: http://capitalfringeblog.org/