Monthly Archives:
October 2012
Joiceville 101.3 "The Joy of Joiceville"
North Carolina Sunshine Radio
Part1
Part 2

Cast of Characters
Josh BAT-MAN
He"s quite eccentric and outspoken.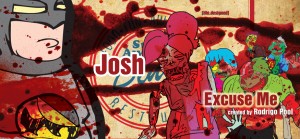 Ms. DEE
Owner of the Diner, She"s been around long enough to not take crap from anyone and always be on charge.
JONATHAN
Methodical man, soft spoken and a bit shy.